Dry No More
By: Bogon , 19:35 GMT le 23 septembre 2011
Another 1.2 inches of rain fell last night and this morning. Precipitation has ended for now, but the big upper level low, which is driving our weather pattern, just keeps on spinning. The latest word says the low will hang around until the middle of next week. We ought to be thoroughly soggy by then.

Here's the state drought monitor from the University of Nebraska at Lincoln. This map is updated weekly on Tuesday, and the new maps are published on Thursday. Here you can see the Dry Slot painted in Moderate tan. There is no drought in eastern North Carolina because of Irene. Western North Carolina got doused by Lee. In between we've been hurting. 'S okay now, though. Next week's version of this map should be a lot less interesting.




Today marks the official (astronomical) beginning of autumn. The sun is going south for the winter. From now until March nights in the northern hemisphere will be longer than the days. In the southern hemisphere it's springtime. Folks living near the equator probably don't care, except to the extent that seasonal motion of the intertropical convergence zone affects their rainfall.

We're past the peak of hurricane season in the Atlantic basin. Still, it will be another six weeks or so until the tropics begin to settle down. I'm keeping some of the graphics from my last blog, so we can continue to keep an eye on tropical storms.

Western Atlantic Imagery from NOAA Satellite and Information Service




Morphed Integrated Microwave Imagery at CIMSS - Total Precipitable Water, 72 hour animation




The MJO is showing signs of movement again. In a couple of weeks we can anticipate returning support for convection in the Caribbean.

IR/200 hectoPascals Velocity Potential Anomalies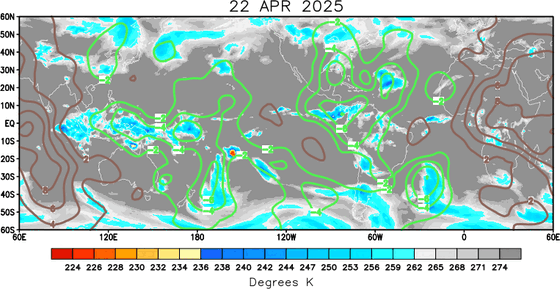 Reader Comments
Comments will take a few seconds to appear.
About Bogon
Featured Blogs
Local Weather
63 ° F

Ciel dégagé
Previous Entries for 2015
Recommended Links