Sunrise + 7:15am Sunset - 7:35pm Moon Waxing Crescent 9% Rise + 8:39am Set - 10:4Opm Sun 3/25 heure cdt




Les yeux de la Vérité vous épient toujours









Present

The Rain Song

This is the springtime of my loving
The second season I am to know
You are the sunlight in my growing
So little warmth I felt before.
It isn't hard to feel me glowing
I watched the fire that grew so low.

It is the summer of my smiles
Flee from me Keepers of the Gloom.
Speak to me only with your eyes
It is to you I give this tune.
It isn't hard to recognise
These things are clear to all from time to time.

Talk Talk
I felt the coldness of my winter
I never thought it would ever go
I cursed the gloom that set upon us
But I know that I love you so
mmmmBut I know that I love you so.

These are the seasons of emotion
And like the winds they rise and fall
This is the wonder of devotion
I see the torch we all must hold.
This is the mystery of the quotient
Upon us all a little rain must fall.

[Page Plant] Houses of the Holy
© 1973 Atlantic Recording Company



I never thought there were corners in time
Till I was told to stand in one
I've heard circles moving right through corners
And they don't even know they've been around and around and around before
Ringing, dinging against each other on a singing chain
Like a flying magnet hyperdrive has never seen any reason to remain the same.

(excerpt Hyperdrive ©1974 Jefferson Starship Peter Sears and Grace Slick)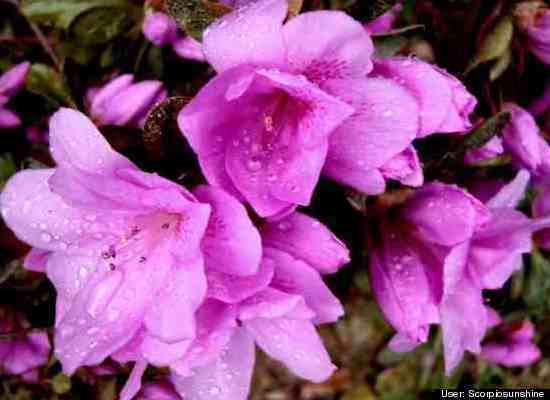 Spring began at 14 minutes past Midnight today March 20, 2012. The Vernal Equinox is a day for joy and celebration.. The weather is incidental-incremental, however, we will get to that very soon.

Je ne dors plus
Je te désire
Prends-moi
Je suis à toi
Mea culpa


At the stroke of midnight, on schedule, the temperature fell rapidly 14° and remains 59.
Betwixt 12:40 and 8:40am 3 inches rain.
Even though periods of rain fell it has slowed just for the past hour but do not be fooled!
The total size of this storm system with embedded thunderstorms, bands of heavy rain,is huge.
From McAllen,TX to Des Moine,IA S-N it measures 1092 miles straightline;
and from Breckenridge to Marshall,TX W-E 266 miles.
"Git a clue and park the truck today Dumb Azzes"
Take a look at the Regional Radar the same you see on TV.

2-day Rainfall Total 3.84 more inches Φ covering my reeds in The Pond

Thur Mar 22
NWS issued this in their 4:30AM Forecast Discussion: "With low level dryness of air and saturation in middle levels see enhanced threat for strong gusty winds in any storms that develop as well as threat for at least small hail as middle level temperatures around -20°C [or -4°F] in southeast OK."
All this hail and brimstone preaching about this afternoon stems from "steep lapse rates" —— A steep lapse rate implies a rapid decrease in temperature with height (a sign of instability) and a steepening lapse rate implies that destabilization is occurring.

9:30 PM It began to rain about 6 pm and continued three hours with occasional loud thunder until 0.5 inches of rain fell. Tomorrow it should be less cloudy and 10° warmer than today's high of 62. Saturday even warmer and finally Sunday all clear with 85 as the projected high.

Saturday March 24

Though I know that the hypnotized never lie, do ya?

yesterday:The aftercast listed at 9.30 above hasn't changed for a change.

The aftercast has changed. Now a high of 77° instead of something else—I don't remember, I just know it was lower. Already, an hour before peak temp time (4:30pm) it is 74, so let me guess... I promise not to change this: 78° will be the high of the day using Mesonet as the datasource. The airport updates 3 times an hour, generally, when it is working right and mesonet updates 6 times per hour.

5:30pm results: 75° high mesonet || 79° high airport

Last night Saturday I saw the setting MOON. Beautiful gleaming silver slice points upward.

Today Sunday the 25th of March is a gorgeous day. I went out in nature to a pond. No fishing allowed. The entire surrounds is a pas touche, or hands off naturally balanced ecosystem.
Also, at night this out of the way area offers amazing star gazing because there is no artificial light. Just The Moon and the stars and if you're chosen you might see the 18 mile wide antimatter cloud, with three antimatter pylons supporting the cloud 1 mile above(you only see the bottom and sparkles). Like a shifting space-time continuum that looks somewhat like a large silvery mushroom with 3 stalks rising from the land.


Today's High Temp 84° at 4:57 PM—higher than expected.
Will try to start a new blog entry for tomorrow.
Already have the complete forecast for next week.



comprenez-vous??






mwhaaa
βετανψ





Realtime Weather Conditions for Station K4O4 Idabel Airport (link opens in a small popup window)


Past
7:20 PM March 19th. Five Hours until the first day of Spring.

The Air Pressure has fallen to the lowest I have seen in this area. 29.26 inches An 80 mile wide vertical band of dangerous thunderstorms stretching from Camp Wood, TX near the Mexican border to Sherman, TX then all the way to St. Cloud, MN is moving SSW to NNE with heavy rain. It is approx 95 miles West of here. But this system appears to be happy where it is.









Year: 2012 State: Oklahoma Vehicle Type: Pickup Trucks

This score reflects vehicle tailpipe emissions that contribute to local and regional air pollution, creating problems such as smog, haze, and health issues.
Vehicles that score a 10 are the cleanest, meaning they emit none of these types of pollutants.
Every vehicle listed in this Guide meets federal EPA or California emission requirements. Manufacturers may choose from a range of eligible emission standards for each vehicle; all the vehicles they sell in a model year must average a particular maximum emission requirement.
Before a vehicle model can be sold, sample vehicles are tested under controlled conditions. Their tailpipe emissions are captured and measured with sophisticated monitoring techniques. Results of these tests determine the emission standard that the vehicle meets. All similar vehicles are required to have tailpipe emissions no higher than the standard.
Emission standards are for the major pollutants in vehicle exhaust:

NMOG, NMHC, or THC—types of carbon-containing compounds, including hydrocarbons

NOx—Oxides of Nitrogen, which combine with hydrocarbons to create smog

PM—Particulate Matter, tiny particles of solid matter that lodge in the lungs and deposit on buildings

CO—Carbon Monoxide, a colorless, odorless, poisonous gas

HCHO—Formaldehyde, a lung irritant and carcinogen

2012 EPA Green Vehicle Guide