Dolly threatens Southern Texas! Cristobal heads out to sea..
A quick update on Cristobal, winds at 65 mph moving northeastwards out to sea. It is expected to take a nose dive south back into teh Atlantic, but redevelopment is not expected as of now.

Tropical Storm Dolly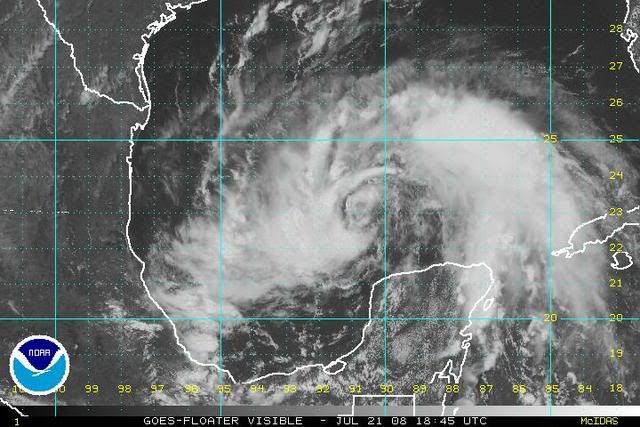 Dolly remains a moderate Tropical Storm this afternoon with winds of 50 mph. The track continues to slowly nudge northwards and a Southern Texas landfall is now more likely then a Mexico landfall. It wouldn't surprise me if Central Texas could turn out to be a possibility of landfall as the storm continues to move to the WNW and even NW at times. The intesity is not really a tough forecast, especially when you get a storm in the warm Gulf waters. A major Hurricane is possible but not forecasted from me or the NHC due to the fast movement of 16 mph. It should make landfall sometime tommorrow. So it's a supreme confidence level on my second run, the only thing that is a bit hard is the intensity. Folks in Southern Texas now need to prepare for the worst and God be with you.

Second run on Tropical Storm Dolly!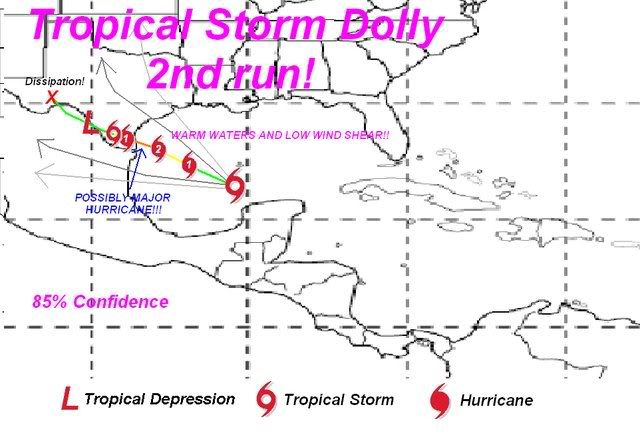 I will update later on tonight on the progress of Dolly and a possible new invest area off the African Coast (again).
Reader Comments